Arthur Murch entered many portraits in the Archibald Prize. His first entry was in 1928; his last in 1969. At his fifteenth try, in 1949, he won the prize with his portrait of Bonar Dunlop.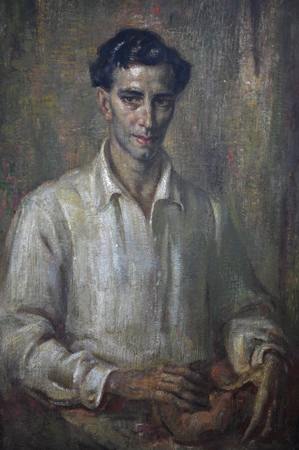 Bonar Dunlop
oil on masonite 104 x 73 cm
Winner of the Archibald Prize 1949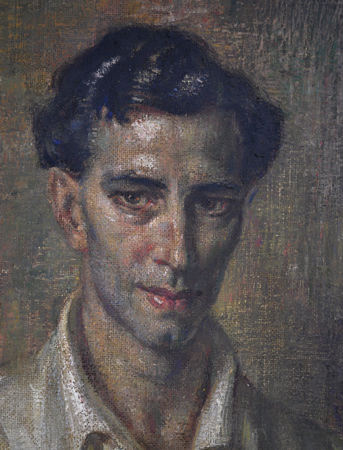 Bonar Dunlop was a sculptor who had attended Murch's sculpture classes at East Sydney Technical College. It was Murch's tenth entry in the Archibald. View the Cinesound Newsreel of the 1949 Archibald Prize.
Other portraits that Murch entered into the Archibald:
1928: Senior Chaplain James Green C.M.G., V.D.
1930: John D. Moore Esq.
1931: E. A. Harvey Esq.
1934: Professor Whitridge Davies
1935: 3 entries – Miss Suzanne Crookston, Cav. A. Dattilo Rubbo, Miss Lelia Suleau
1940: Richard Windeyer , Esq. K.C
1941: 3 entries – Mr Frank Lumb, Mrs. A. Murch, James Cook
1942: Rev. Canon A. H. Garnsey
1943: Kenneth Wilkinson
1944: 2 entries – Stephen Stack, Self Portrait
1946: Professor Robert Dicks
1949: 2 entries – Bonar Dunlop,  Self Portrait
1950: George Wallace
1951: G. K. Townshend – See Manly Art Gallery and Museum Collection
1952: 2 entries – Dr. P. C. Charlton, Mrs C. E. Martin
1953: Douglas Stewart
1954: John Santry – See Manly Art Gallery and Museum Collection
1955: 2 entries – Mr Neville Fortescue, Mrs A. Brentnall
1958: Mr T. E. L McGuire
1959: Self portrait
1963: Professor Sir Mark Oliphant KBE FRS
1964: Rubina Namatjira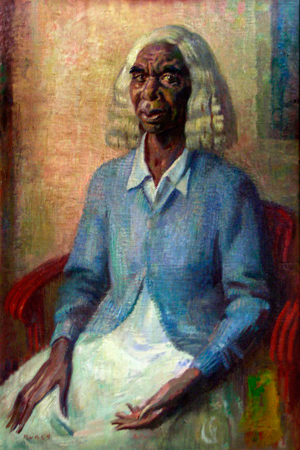 1965: David Schlunke
1966: Alan Ingham
1969: Alexander Cann