Murch made several equestrian statues including two life-sized sculptures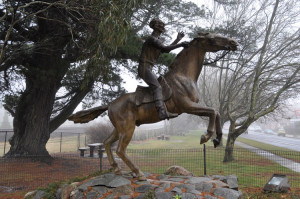 Govett's Leap – Horse and Rider
1976
Resin and marble dust
Life size
Commissioned by the Blackheath Rhododendron Festival Committee.
Murch made the horse in the backyard of a rented house in Mowbray Road, Chatswood. His assistants were Horace Broadhurst, Steve Sawkins, Peter Day, Colin Brown, Ian Ottley
The subject was controversial – see the ABC Weekend Magazine feature: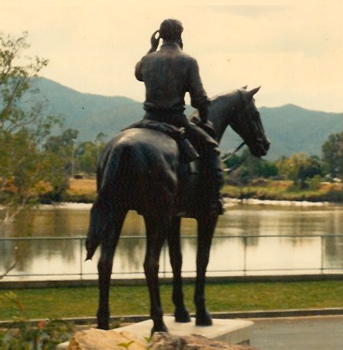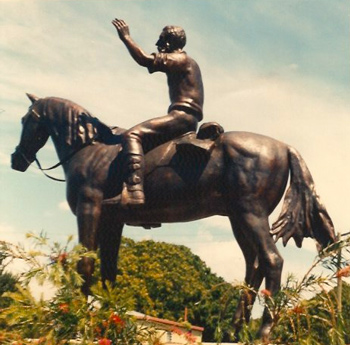 Charles Archer on his horse Sleipner
1980
Bronze
Life size
Commissioned by the City of Rockhampton; unveiled 11/10/1980; Arthur was aged 78.
Charles Archer (1813 – 1862) along with his brothers explored the Fitzroy River and Dawson Rivers
PROCESS OF PRODUCTION
For the Govett's Leap sculpture in Blackheath and the Charles Archer & Sleipner sculpture in Rockhampton, Murch used a method of cutting cross-sections of a completed maquette, photographing them and then projecting them to the correct size onto timber then cutting and assembling the cross-sections.
Here are his drawings of the process: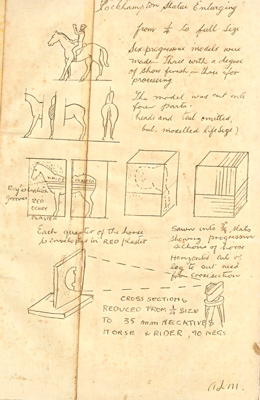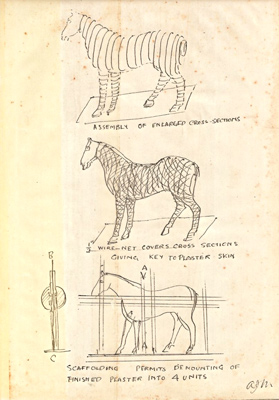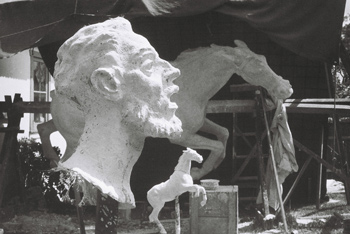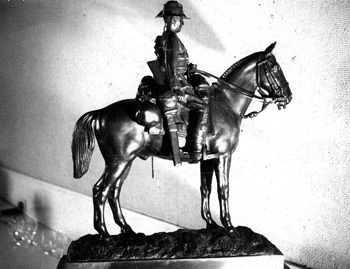 First Cavalry Division – General George Macarthur Onslow Trophy
1931
Bronze 56.0 x 49.5 cms on wooden base.
Inscribed: Sculptor: A. J. Murch
Foundry: H. and T. West
Labelled with awards from 1931-1955 for the "Most Efficient Regiment"
Royal NSW Lancers, Parramatta
Made by the "lost-wax" method.